"Mick Ryan should be a national treasure! I never fail to be impressed by the continuous flow of originality in his writing and it is my sincere belief his work should be seen in the wider world of theatre" Tykes' News 2019
♦
HERE AT THE FAIR is Mick Ryan's latest production. With 20 remarkable songs that only Mick could have penned, this show is beautifully interspersed with dialogue that exposes the personal worlds  of the characters living the travelling entertainers life in Victorian England.
The show has already left audiences spellbound with a standing ovation on its debut performance at Chippenham Folk Festival, followed by success at Tenterden Folk and Halesworth Arts Festivals.
Mick Ryan has assembled a cast of prodigious talent which includes all three members of Granny's Attic, Geoff Lakeman, Heather Bradford, Pete Morton, Alice Jones and Mick himself.
♦
"A delightful entertainment. The performances are nailed with a fairground mallet"  EDS Magazine
---
---
2020
---
FURTHER DATES TO BE CONFIRMED 
---
"Guaranteed to get the audience on it's feet" Living Tradition Magazine
---
---
The semi-staged format of this modern-day ballad opera lent an informal feel to what was actually a tightly organised and well-executed piece of musical theatre. One that portrayed an important aspect of the human condition: people must be amused, especially when living in the shadow of something like the Peterloo Massacre.
The musicians wove together a tapestry of sound with consummate musicianship but none of the "look at me virtuosic" flourishes they could so easily have indulged in. Instead they placed their skills entirely at the service of the narrative.
The singing and acting were equally impressive and as for Alice Jones' tap-dancing portrayal of a Peterloo soldier, this was nothing short of a miracle. Her impassive facial expression exuded all the grim menace of someone blindly following orders with neither conscience or compassion. Sitting inches away from the tip of her sword I can tell you she frightened the shit out of me!
Special mention must also go to Pete Morton. He was so convincing in his role as a showman that he had us believing that he had his performing fleas had materialised before our very eyes. Mick Ryan should be a national treasure! I never fail to be impressed by the continuous flow of originality in his writing and it is my sincere belief his work should be seen in the wider world of theatre. He tackles some big subjects with universal relevance but only we habitués of folk music venues ever have chance to seee it.
Ray Black – Tykes News 2019
---
Here At The Fair is the sixth of the "folk operas" written by superb folk singer and songwriter Mick Ryan. Set at a country fair in 1850, it tells the stories of the travelling showmen and women who set out their stalls and ply their trade against the turbulent political backdrop of the times (the Chartism movement, the poverty brought about by the agricultural slump of the "hungry forties" and the brutal "relief" offered by the workhouse). Like Mick's previous folk operas, it takes the form of a fairly loose narrative spanning a progression of time and fortune, into which are equal-handedly inserted character studies and vignettes for the principals and a series of ensemble pieces. And as is customary, virtually all of the individual items were written by Mick himself; just a few of the songs are set to traditional tunes.
Again as is customary, Mick demonstrates his knack for gathering together a great cast from among the best performers on the current folk scene, performers who are as well suited to carrying character roles as they are fine singers and instrumentalists. The instrumental accompaniment is perfectly managed, with excellent use made of the contrasting timbres of Anglo and duet concertinas, guitar, fiddle, melodeon, clarinet, mandolin and euphonium. Here we encounter Mick himself in the role of Vincent Crummles, actor-manager now fallen on hard times; Alice Jones as his daughter Ninnetta the "Infant Phenomenon"; Cohen Braithwaite-Kilcoyne as reluctant clown Steven Starling; Pete Morton as Professor Sleary, flea circus owner; Heather Bradford as Madame Lavengro, fortune-teller; Geoff Lakeman as Doctor Maldini, snake-oil salesman; and George Sansome as ballad seller John Smith. Oh, and not forgetting Lewis Wood as an itinerant fiddler. In this instance, Mick has drawn his inspiration for several of the individual roles from specific Dickensian characters, but knowledge of such background isn't in any way crucial to one's appreciation of their roles or their ongoing development during the course of the show.
As usual, space doesn't permit more than a cherrypick of personal selections, what I consider particularly successful contributions or episodes. Without exception, all cast members exudes maximum enthusiasm, and their characters are entirely believable, not just stage-bound replicas. Even so, I must single out Cohen, who could be nominated the star of the show simply by virtue of the sheer quality and assurance of his singing and playing, his pivotal solo Moving On being especially poignantly turned. Other impressive individual moments come with Alice's two solo songs (We Must Wander and I Can Remember), George's (thinly-veiled?) autobiography Dancing In The Light; Heather's touching Hope Was High; Geoff's Peterloo reminiscence I Was There; Pete's wistfully self-aware A Good Old Gal; and Mick's own reflective songs The Old Joke and The Turning Of The Years. But my two favourites are the a cappella spiritual The First Stone (brilliantly led by Cohen) and the rousing first-act finale Worth It In The End. I can't resist however (though I stress, without making any accusations of plagiarism!), remarking on certain melodic or rhythmic phrases unavoidably recalling specific earlier folk compositions – among them MacColl's My Old Man (on Hope Was High); The Humors Of Whiskey/Paddy's Panacea (on Maldini's Cure); Hopping Down In Kent (on I Have Fleas); Mary Ellen Carter (Worth It In The End); and I Can Hew (on the finale People Must Be Amused). Deliberate? Maybe; but does it matter? Not a bit, in the scheme of things!
Here At The Fair is a fresh encapsulation of everything Mick Ryan does best (and has done before in his folk-operas) – well-crafted, thoughtful and melodic songwriting with a good ear for a strong chorus and memorable line. In that respect, as well as in the theatrical sense, it's a good old-fashioned folk entertainment, and one that's built to last and a worthy successor to Mick's previous ventures, well able to hold its place in that illustrious canon. Perhaps in the final analysis the concentration of individual character portraits allows for insufficient development of a linear narrative – the whole show is more of a tableau-snapshot – but that shouldn't be taken as a serious criticism in the context that each character is given his/her chance for "moving on" through interaction and reaction. And, importantly, the listener is left in a state of uplift and, through the experience, with a greater self-knowledge.
David Kidman
---
Here At The Fair – Double Album WGS428CD Wildgoose Label
Mick Ryan is, as we all know, is a prolific song-writer and skilled at melding his ideas into shows or folk operas as he is happy to call them. Here At The Fair is his sixth such show and, as always, he has assembled a fine cast: Heather Bradford, Alice Jones, Pete Morton, Geoff Lakeman and the trio Granny's Attic – George Sansome, Lewis Wood and Cohen Braithwaite-Kilcoyne. Ryan's shows are usually historic and/or political subjects so this particular fair is set up in a country town in 1850. Initially it's all very jolly with the instrumentation featuring reeds and euphonium echoing the sound of a fairground organ. The various characters introduce themselves and comment on their lifestyles. Ryan is generous in sharing out the parts with Geoff Lakeman playing Doctor Maldini the snake-oil salesman; George Sansome as a ballad-seller; Heather Bradford plays the fortune-teller Madame Lavengro and Pete Morton is allowed to go completely over the top as Professor Sleary, the owner of the fles circus. Ryan plays Vincent Crummles, the showman, with Alice Jones as his daughter. Aficionados of Charles Dickens will recognise the names.
Gradually, a darker story begins to emerge. Cohen Braithwaite-Kilcoyne plays the clown Steven Starling who, we learn, is searching for his father. The second disc begins with Maldini recalling the events at Peterloo and Madame Lavengro remembering the last great Chartist meeting. There are other missing persons in this story – is there a link between them? As the show progresses the characters confess the truth about the hardship of their lives in a travelling show, admit that their best days are behind them and confront the truth about themselves. Any more information would be spoilers.
Mick Ryan's songs are always singable, which is why so many people borrow them, and even in the darker moments of Here At The Fair there is an overwhelming feeling of nostalgia. Things may be bad now but they were good once. Sadly in the words of "If Only", there is no going back so everyone blinks back the tears and looks forward.
-Dai Jeffries Folking.com
---
---
THE PERFORMERS
---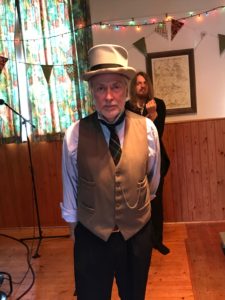 MICK RYAN – Vincent Crummles
Mick Ryan is well known on the folk scene as a fine singer of traditional and original songs. He is perhaps best known for his collaborations with multi-instrumentalist Paul Downes but has also worked in duos with John Burge in the 1970's and also Pete Harris in the 1990's. Having written both comic and serious material for the very poular band Crows in the 1980's, he has since written for radio and a series of highly successful folk musicals: "A Tollpuddle Man" – with Graham Moore; "A Day's Work"; "The Voyage"; "Tanks for the Memory" and "The Navvy´s Wife".
"Mick Ryan´s words and music are superb" Folk on Tap
"wonderful songs" South Tipp Today
---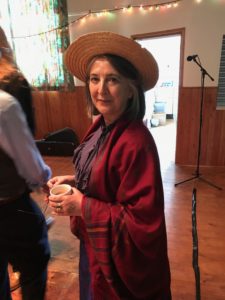 HEATHER BRADFORD – Madame Lavengro
Heather Bradford is a singer, actor and director. She was one third of the folk group Hen Party and is a director and performer at the renowned Chesil Theatre in Winchester. She has had prominent roles in Mick's previous productions 'The Navvy's Wife', The Pauper's Path' and 'A Day's Work', and received outstanding reviews for her work.
"The strength of her performance as the Irish mother in 'A Day's Work' was crucial to the success of this outstanding show" fRoots
---
Pete Morton is an energetic and charismatic performer of original and traditional songs. Regarded as one of the best songwriters on the folk scene, he is popular in clubs and at festivals in the UK, on the continent and in America. His songs have been described as an unruly mix of humour, politics, love and social comment wrapping their way around the folk tradition. Also blessed with a remarkable singing voice, his performances are a joy.
"one of the best the British roots scene has produced in living memory" fRoots
---
Granny's Attic are a folk trio who play traditional music with verve, energy and in their own inimitable style.
"the future of English folk" The Living Tradition magazine
He is an extremely powerful singer and is widely considered to be a virtuoso on the anglo-concertina, and the melodeon. His recent solo album was described by The Living Tradition magazine as showing

"an astounding musical maturity"

.
GEORGE SANSOME – John Smith the ballad seller
He has a pure, beautifully controlled, voice, and is an expertly deft and subtle guitarist. His singing and playing exemplify musical taste of the highest quality. He also plays very fine euphonium.
He is an absolute demon on the fiddle. He has the technical understanding of the classical musician and the instinctively expressive 'feel' of the folk musician; an extremely rare combination which makes his playing very special indeed.
---
Geoff is the father of Sean, Sam and Seth, and the father-in-law of Kathryn Roberts and Cara Dillon, all of whom appear on his solo CD 'After All These Years', which has received five star reviews and much radio play. His fine singing, and musicianship, on the rare Crane duet concertina, have made him a favourite at clubs, festivals, theatres and arts centres at home and abroad.
"Pure class" Mike Harding, The Mike Harding Show
---
ALICE JONES – Ninetta Crummles the "Infant Phenomenon"
Alice is a singer, dancer and multi-instrumentalist (keyboards, clarinet, whistle and guitar) from West Yorkshire. She was a member of The John Dipper Band and worked in a duo with Pete Coe for a number of years, and is now much in demand as a solo performer.
"a seriously impressive singer" fRoots
---